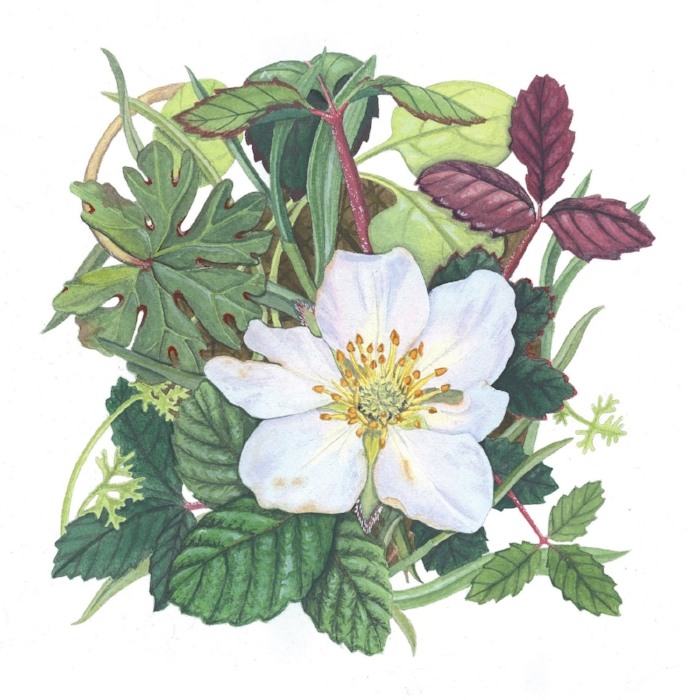 California Winter
California winters have always been precious to me - the green hills, shocking abundance of flowers, and the crisp morning air all being me back to my childhood. This piece, which depicts a microhabitat of California coastal strawberries and the plants they're found amongst, is meant to create that feeling.
Endemic Plants of Monterey County.
Monterey County on California's Central Coast contains a wide range of ecosystems, which provide habitat for 17 endemic species. This information was collected from the Monterey Bay California Native Plant Society website, and three species were excluded because they do not occur only in Monterey County.
Camellia
I had so much pleasure working on this piece. By dissecting this flower I learned a great deal about it and about botany itself, and was able to solidify an already wonderful relationship with the two massive camellia bushes that take up residence in my yard.
Mojave Opuntia
A selection from a series of Mojave opuntia cactus species. From left to right - Opuntia basilaris, Opuntia engelmanii, and Opuntia chlorotica. Inspired by a love of the desert and a childhood of roadtrips to the Mojave.
Trompe-loeil
Trompe-loeil (French for "fools the eye", is a method that seeks to make an illustration look realistic, as if you could reach out and grab it. This piece, inspired by years in Vermont collecting and identifying plants, seeks to trompe the viewer's loeil.
Magnolia
Scratchboard illustration of an Old Monterey magnolia.
Ohia Lehua
Leaves, flowers, and above-ground habit of Ohia lehua, Metrosideros polymorpha. A prolific and iconic Hawaiian tree that is very close to my heart, and currently under threat.
Marigold Stipple
Pen and ink stippled illustration of a marigold flower.
Sanity & Wits